Services
Dakota Downsizing has a team of employees to assist seniors and their families with the overwhelming task of parting with decades of possessions.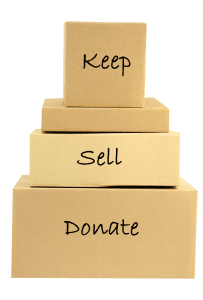 Project plan. What services do you need? How involved do you want to be throughout this entire process? Before any work begins, we conduct a detailed walk through of the home.
Sorting and organizing. We provide the boxes and do all the physical work as we categorize your possessions.
Items to keep. What would you like to take with you when you move? We work one-on-one to guide you if needed.
Items to family. We can assist with shipping items to family members.
What to sell. Do the items remaining have any value?  We guide you through the selling process, and explain who will give you the best possible return, based on the current market.  We also provide a detailed list of what has sold.
Remove unwanted items. We coordinate all ~

Charitable contributions: we can quickly inventory all donations, if requested.
Recycling: scrap metal, paper recycling and shredding.
Trash pickup: bulk or curbside.

Moving companies.  We can assist with getting estimates for packing and moving.
Last minute details. Did you change your mind about a few things? We can transport items to your new residence or charity, and take care of any personal errands to save you time.
At your new residence,
Dakota Downsizing

can help you:

Create a floor plan using existing furniture,
Unpack and organize your personal belongings,
Remove all boxes and materials,
Hang pictures.